Doll Face has been showing an interest in tea parties since we came back from our family vacation this year. She is into all things tea party. I have no idea where she picked up this fascination but when she told me she wanted to have a tea party, I said why not. And took it a step further. I am all about making memories!
I started looking for a real tea set and decided to buy a temporary one while I find a good deal on a more permanent set. I went to our local thrift store and was able to score some great pieces for a very reasonable price. I found 4 matching tea cups, and a tea pot. I was over the moon to find the 4 tea cups that matched but was sad that I didn't find the coordinating saucers. Boo! The tea pot doesn't match the tea cups but they go well together. So I bought them. In total, I spent $7 for all the items.
Then I started thinking of a "cool" theme for our tea party, and immediately I thought Superheros! Yeah, I know, kinda a weird combo, Melissa. But isn't it awesome?! Hello, everyone loves tea, even superheros! So I set off to plan our Superhero tea party.
I decorated our patio with a super hero logo banner that I made. The logos are made from construction paper, really simple to do. I used two table covers: one around the table and another on the top.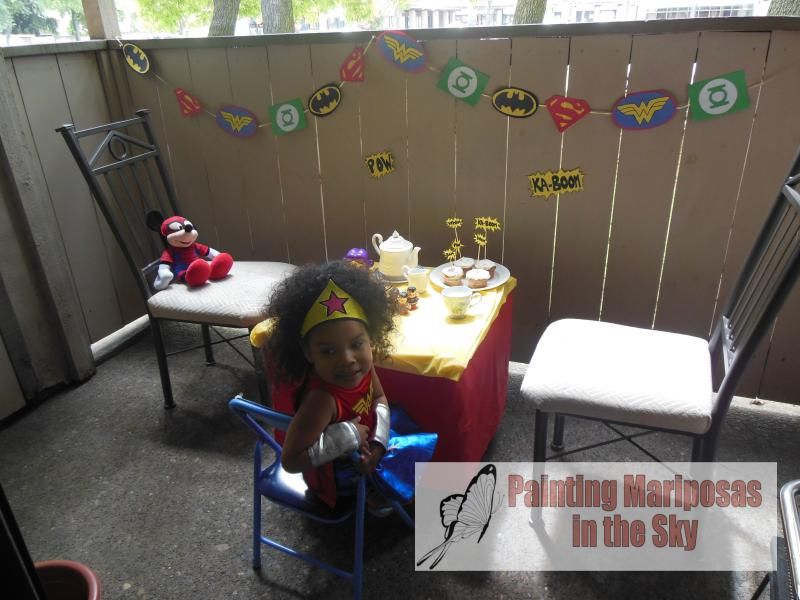 For the cupcakes, I cup out comic book sayings from yellow construction paper. I glued these sayings to skewer sticks I had at home. I cut them different lengths to make them look different. With the left over yellow construction paper, I cut out bigger comic book sayings and taped them near our tea table. (see above)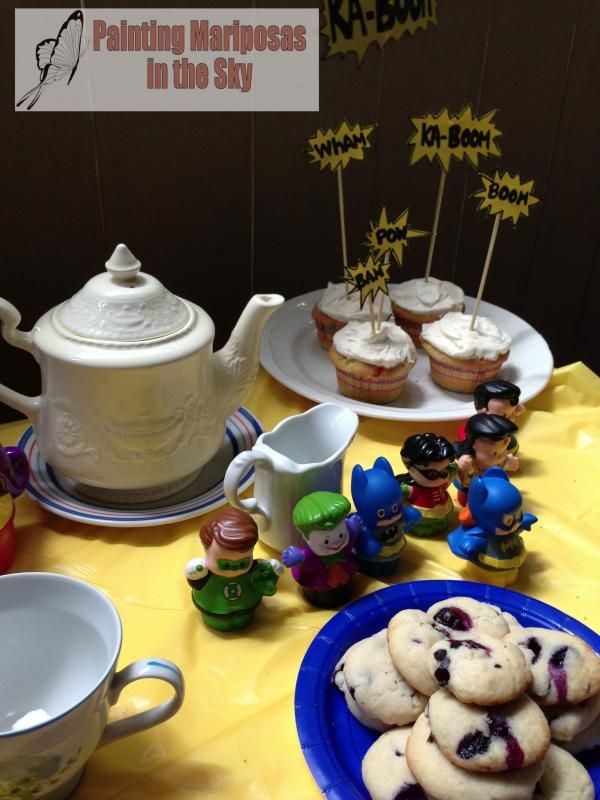 I rounded up a few of our "friends" that we have around our home. Anyone that had a superhero outfit was invited.
Micky Mouse dressed as Spider man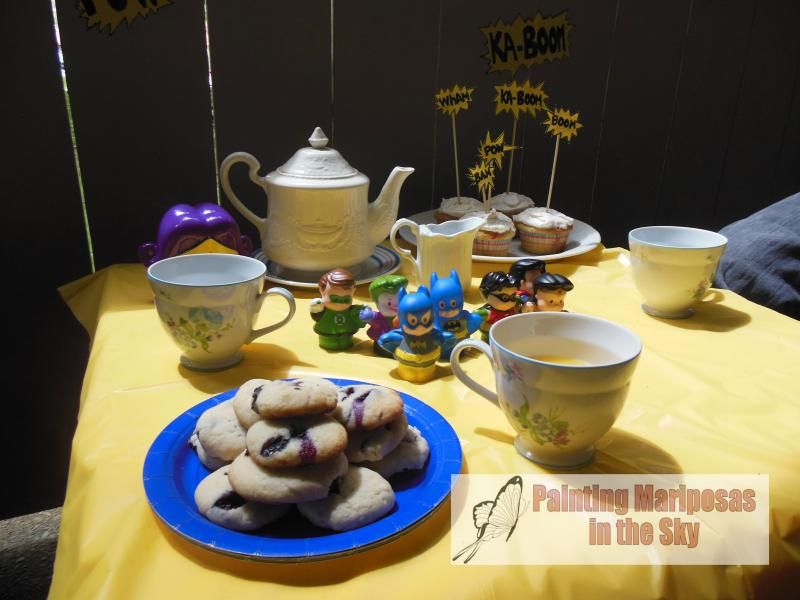 Our DC Comics Little People collection

We also dressed in Superhero attire. Doll Face wore her Wonder Woman costume, the Hubby wore his Superman shirt, and I took one for the team and wore a Green Lantern mask.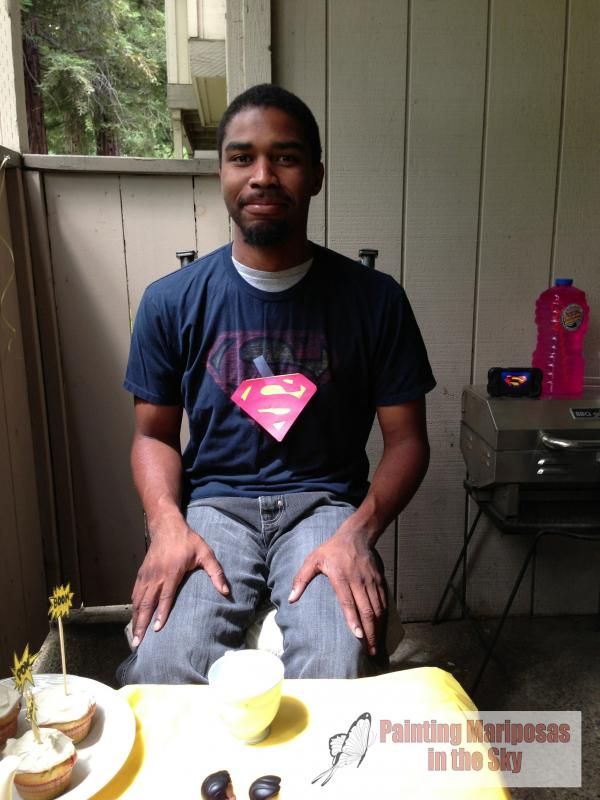 My hubs is a dork, do you see his phone in the background? He was looking up Superhero theme songs and playing them while we had tea. I love this man.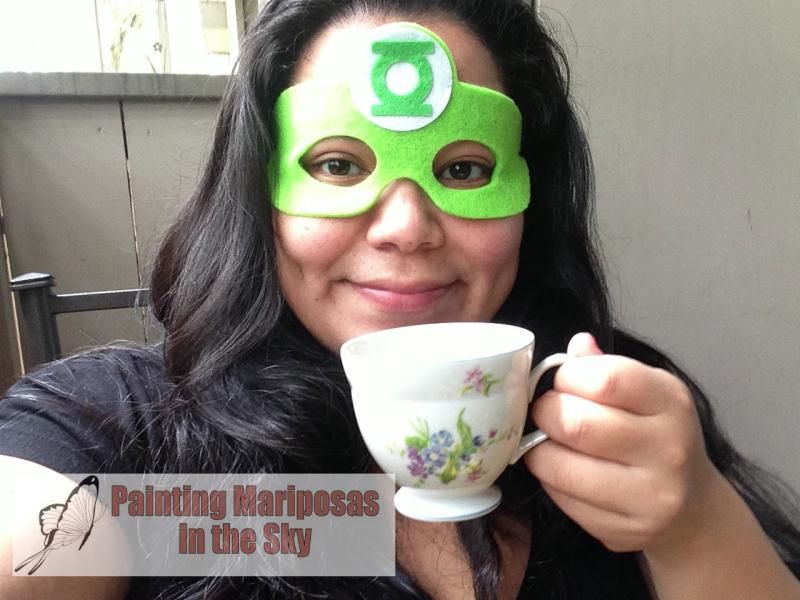 I kept the menu simple. I made cupcakes with butter cream frosting and shortbread lemon blueberry cookies. We had our tea after lunch to cut down on the sweets that we ate.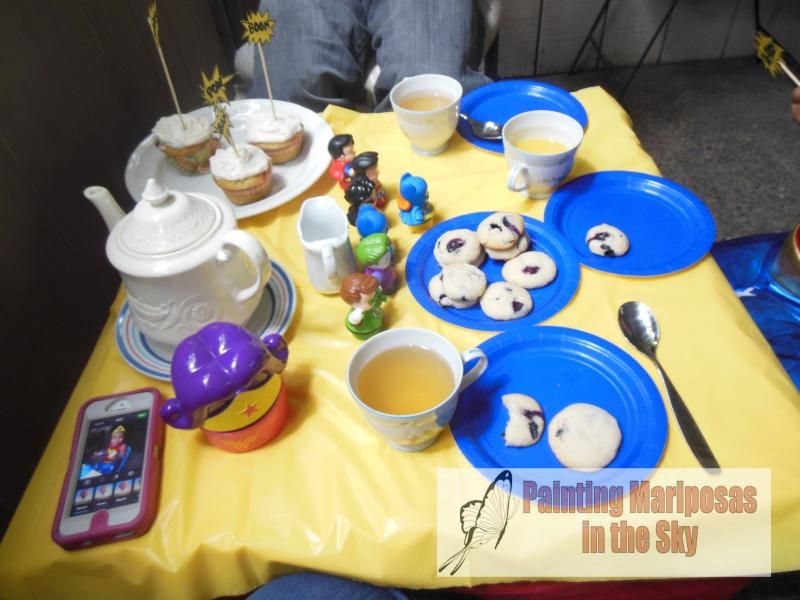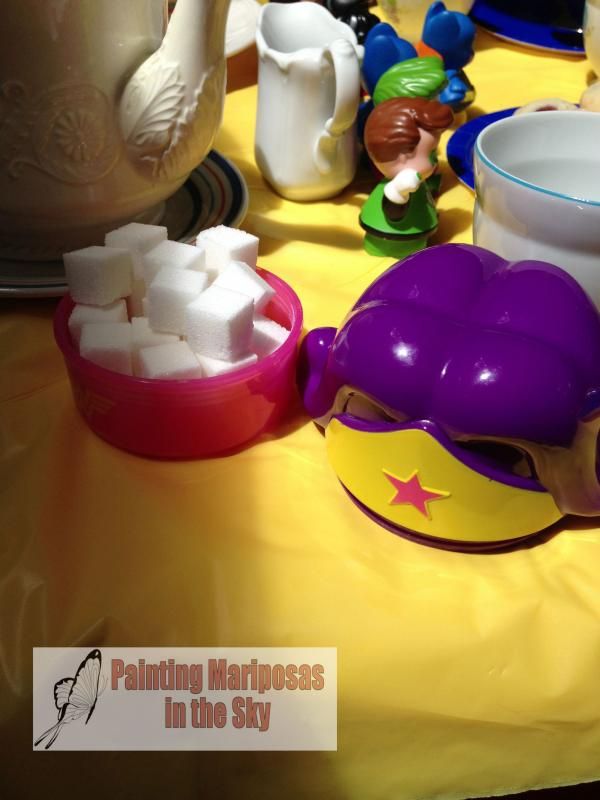 We placed our cube sugar in our Wonder Woman container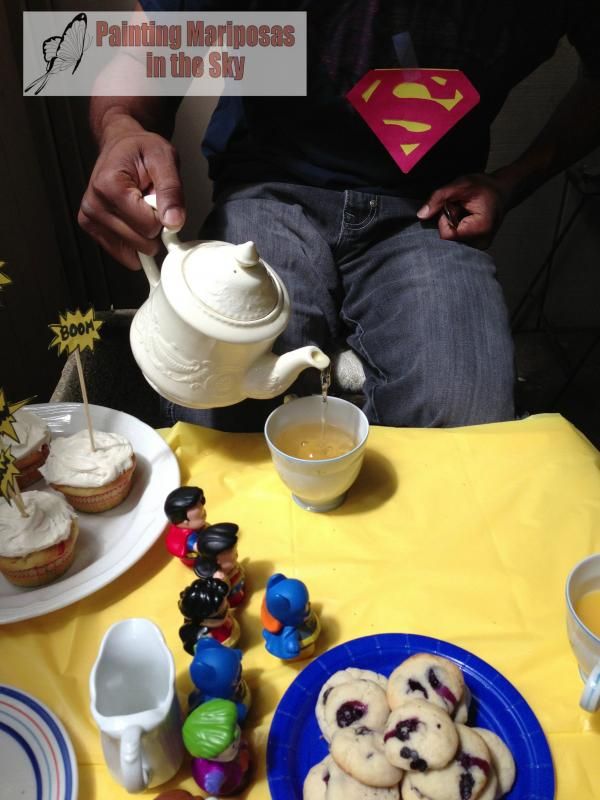 Doll Face had an awesome time. This tea party didn't take much effort and is something that anyone could do.
If you could plan a cool theme for a tea party what would it be?